Deep Snow...No Problem!
My very first use I had about 14" of snow. Not only did I plow my own long driveway and sidewalk, but I plowed my neighbors and two more houses of sidewalks before I quit. The battery still had power...A+ all the way!
Amazing!!!
I was apprehensive when my wife asked me to cut an 8" diameter limb...It was absolutely amazing how well it worked.
Great mower!
The mower has lots of power. Push button start is faultless...Much quieter than a gas mower…height is easily adjustable...I highly recommend this mower and would never want to go back to gas powered.
The closest power to a gas trimmer I've seen!
I just bought the latest EGO string trimmer with powerload and the carbon fiber shaft. Let me tell you, just BUY IT! This thing is a beast and I would swear it was gas powered...This really feels like a quality product that is well engineered.
Amazing!
Words can't express how great this thing is. Awesome power, comfortable and easy to charge.
Great Battery Life
The EGO 5.0 Amp Hour Battery allows me to mow both my front and back yards, which takes about 40-45 minutes...I also love that I can use the EGO batteries on any of my EGO tools (mower, trimmer, etc.).
Outstanding Machine!
Have 16 hedges in my yard and it cut my time almost in half. Incredible power and runtime for a battery operated machine.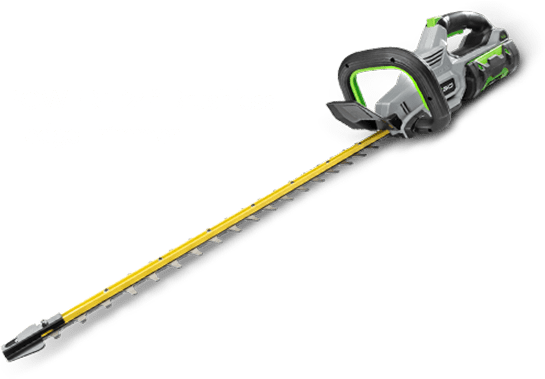 A Dream Machine
...No exhaust, no gas can, no pull start required and it's so much quieter. Impressive power for a battery operated tool. Cut down an 8' tree, cut up pieces for firewood, never bogged down or ran out of juice...
Dizajniran da premaši sva vaša očekivanja
Dobijte snagu benzina bez buke i isparavanja i s najboljim jamstvom na tržištu.
Udahnite svjež zrak
S našom tehnologijom sustava EGO POWER+ možete slobodno raditi kad god i gdje god želite - bez udisanja plinova.
5 godina jamstva na alat / 3 godine jamstva na baterije
Svi EGO POWER + proizvodi imaju 5 godina jamstva na alate i 3 godine jamstva na baterije i punjače.
Radite u udobnosti cijeli dan
Budimo iskreni, alati na benzinski pogon su bučni. Sustav EGO POWER + ima minimalnu razinu buke i vibracija za rad bez stresa.
Naši klijenti vole pokazati svoj EGO
Bolja tehnologija donosi nevjerojatnu snagu
SVE BATERIJE NAPAJAJU SVE ALATE
Uz pogodnost univerzalne kompatibilnosti baterija, možete koristiti bateriju bilo koje veličine za bilo koji alat iz linije EGO POWER +.
Najbolje jamstvo u industriji
EGO nudi najnapredniju baterijsku tehnologiju koja daje ili premašuje snagu benzina - sve bez isparenja, buke i dima.
Snaga i performanse benzinca
Patentirana EGO tehnologija povećava snagu i vrijeme rada. Vremena punjenja koja su vodeća u industriji vraćaju vas na posao za samo 25 minuta.